Giving back can take various forms (5k runs/walks, bake sales, golf outings, office collection, etc.), but all events require detailed planning. We will work with you directly to offer assistance in the planning of your event and to ensure you have the right tools to be successful. Our goal is to give you the resources to make this fun, easy and successful.
If you are interested in organizing a fundraising event to benefit CAMC, please read the following information and return a completed application to our office. We will be in contact with you within a week of receiving your application.
If you have any questions contact us at 304-388-9860 or camcfoundation@camc.org.
Frequently Asked Questions
Featured Community Giving Group
Chandler Drive Church of God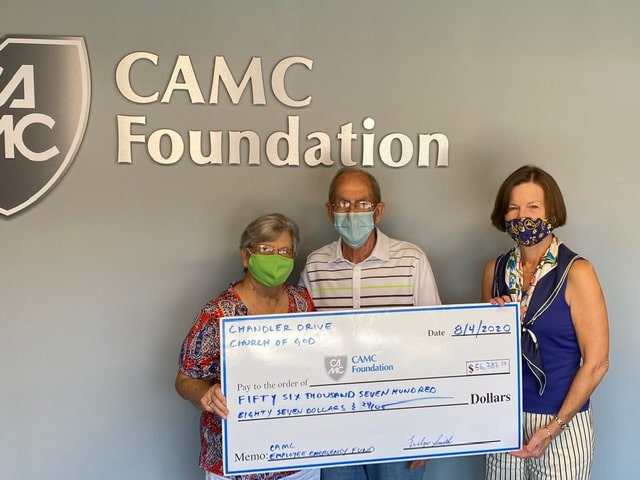 Please join us in thanking the Chandler Drive Church of God for their very generous donation to the CAMC Foundation. Church members Evelyn and John Smith presented the gift on behalf of their congregation. The donation was directed to support the CAMC Employee Emergency Fund which provides assistance to CAMC employees who experience personal financial emergencies.
After more than a century of worship, the difficult decision was made to close the doors at Chandler Drive Church of God. In keeping with their commitment to their community, the congregation allocated all remaining assets to non-profits in the valley. The CAMC Foundation was fortunate to be the recipient of their compassion and devotion.