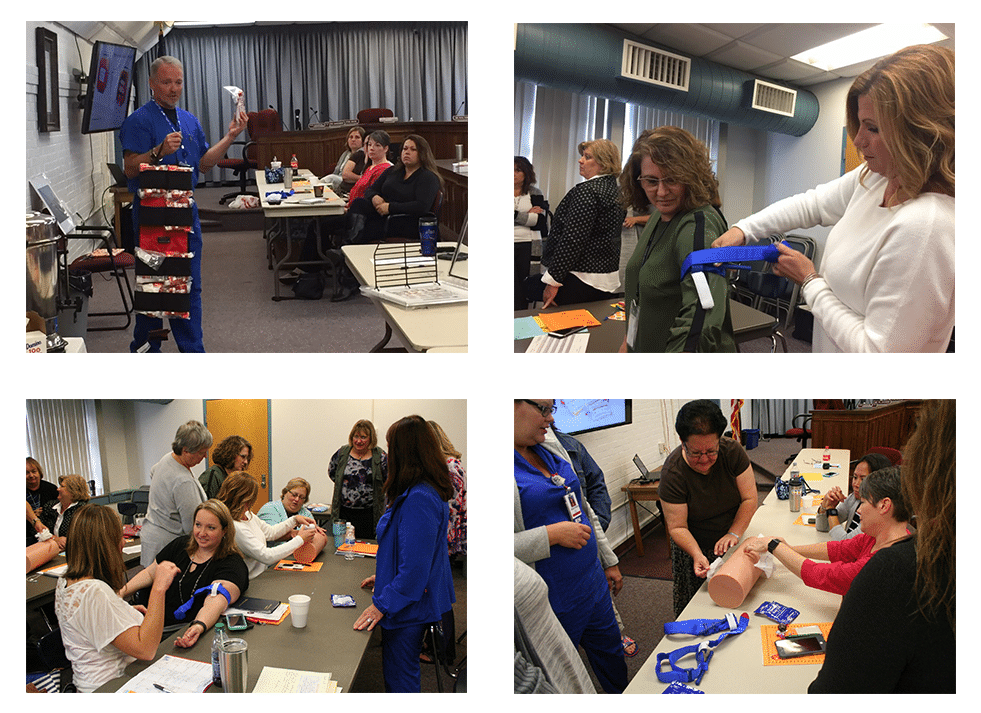 The Stop the Bleed campaign is a nationwide campaign endorsed and sponsored by the American College of Surgeons. The campaign initiative is a response to the school shootings across America beginning just after the Sandy Hook Elementary shooting. The purpose is to educate, train and put the supplies in the hands of our school teachers, principals and school staff to recognize and respond to a student or co-worker that is experiencing uncontrolled hemorrhage as a result of a natural or man-made incident. In 2017 the CAMC Foundation awarded CAMC Trauma Services with a grant of $30,000.00 to purchase Stop the Bleed Stations to be placed in every public middle and high school in Kanawha, Putnam, Lincoln and Clay County.
We kicked our campaign off at Kid Strong in June of 2017 and since then we have placed the stations in 8 Lincoln County Schools, 2 Clay County Schools, 4 Kanawha County Schools, trained over 200 school nurses and more than 250 school teachers. We have scheduled dates to provide training to the remainder of the schools in Kanawha and Putnam County. By the beginning of the 2018 school year we plan to have all the kits distributed and training delivered. This program has encompassed our training calendar as we are now getting request from banks, churches and businesses. Our team of physicians, nurses, paramedics and EMT's have worked diligently to expand this educational opportunity to our community. We won't let up until we have offered education and placed Stop the Bleed Stations in EVERY school in WV. As it is said in the Stop the Bleed program, "The only thing more tragic than a death is a death that could have been prevented." With this training, YOU can save a life.
If you or someone you know wishes to participate in this program or receive training, contact CAMC Trauma Services at 304-388-1859 to schedule your event.