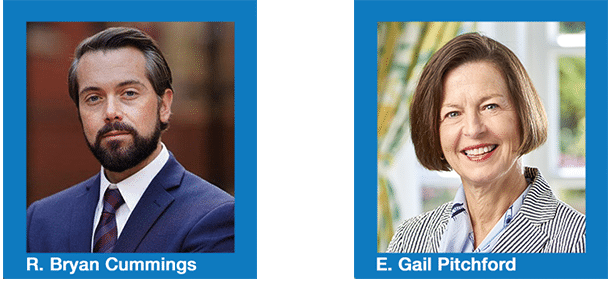 The CAMC Foundation Board of Directors announced R. Bryan Cummings as its new President in October 2021. With 11 years of experience at the CAMC Foundation, Bryan is a seasoned fundraiser and philanthropic leader, and possesses a wealth of experience and a passion for positive change within our community and state. Bryan has the qualifications and expertise to continue to grow the CAMC Foundation to create a lasting impact in our area. The CAMC Foundation plays an important role in our region, and Bryan will continue to work with vigor and enthusiasm to support the hospital, and the patients CAMC cares for everyday.
He succeeds E. Gail Pitchford who retired on September 30th, 2021, after leading the CAMC Foundation for 15 years. During her time as President, Gail created a legacy that will positively touch the lives of our family, friends, and neighbors for many years to come. Under her leadership, Gail directed the Foundation to new fundraising heights, including a successful capital campaign that raised more than $15 million dollars to build the CAMC Cancer Center. In addition to this career milestone, Gail oversaw the creation of new endowments, special events, mini-campaigns for service lines and clinical units, and provided leadership to a Board of Directors that inspired donors to partner with the CAMC Foundation to create change in our community. Gail lived the CAMC Foundation mission and we thank her for her service.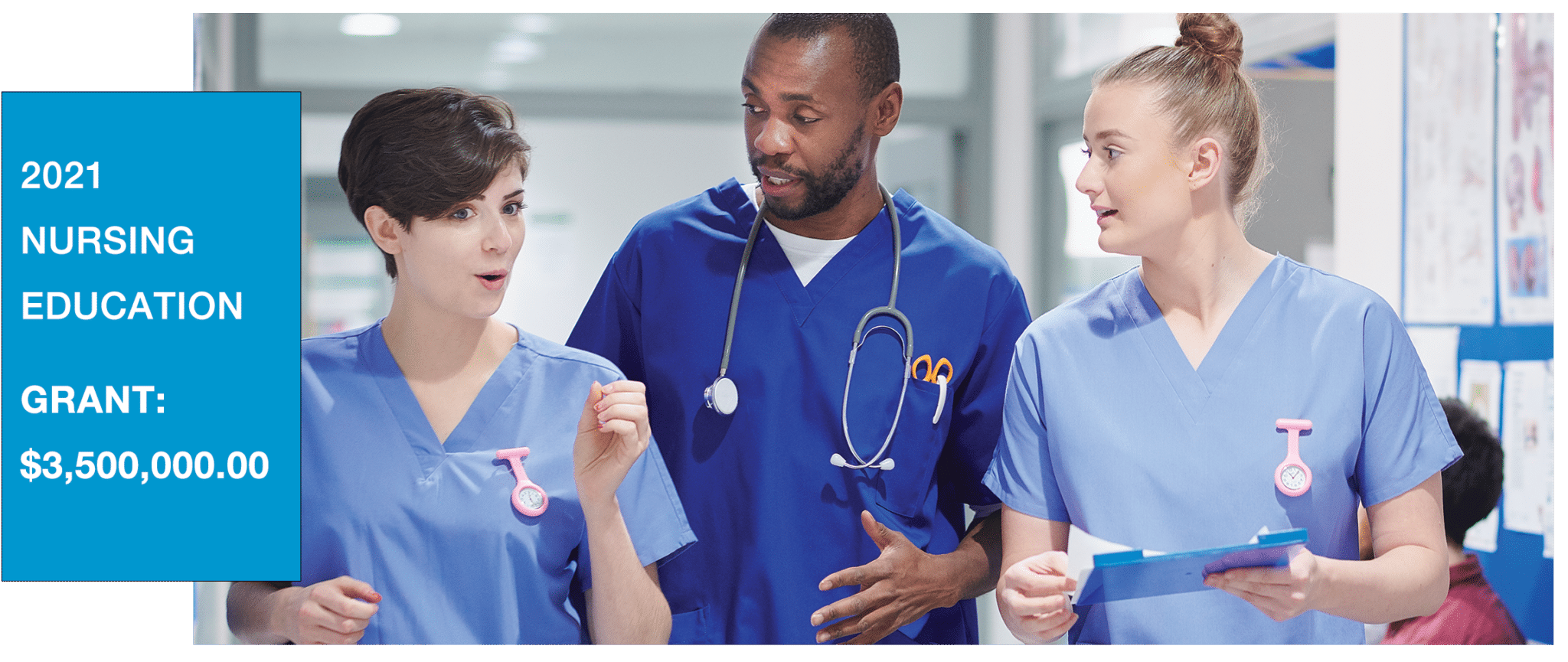 The birth of CAMC as a teaching hospital began nearly a half century ago. Today, the CAMC Foundation helps support that proud tradition by allocating philanthropic dollars to support educational assistance for nursing students, current CAMC employee educational expenses, and continuing education for health care providers at CAMC.
By doing so, the CAMC Foundation grants funds to help anticipate and prepare to meet our community's medical needs both now and in the future. Working together with our community, and through generous donations, the CAMC Foundation awarded $3,500,000 in 2021 to educational assistance programs and to nursing students who will in turn complete clinical training at CAMC and become employees of CAMC upon graduation. In doing so, we affirm CAMC's mission as a community based academic medical center. We will continue to expand our commitment of providing education assistance and learning experiences to professionals throughout our state. Partnerships in learning create benefits for our community – high quality health care, improved patient outcomes, population retention, and economic impact; the conduit for which is education.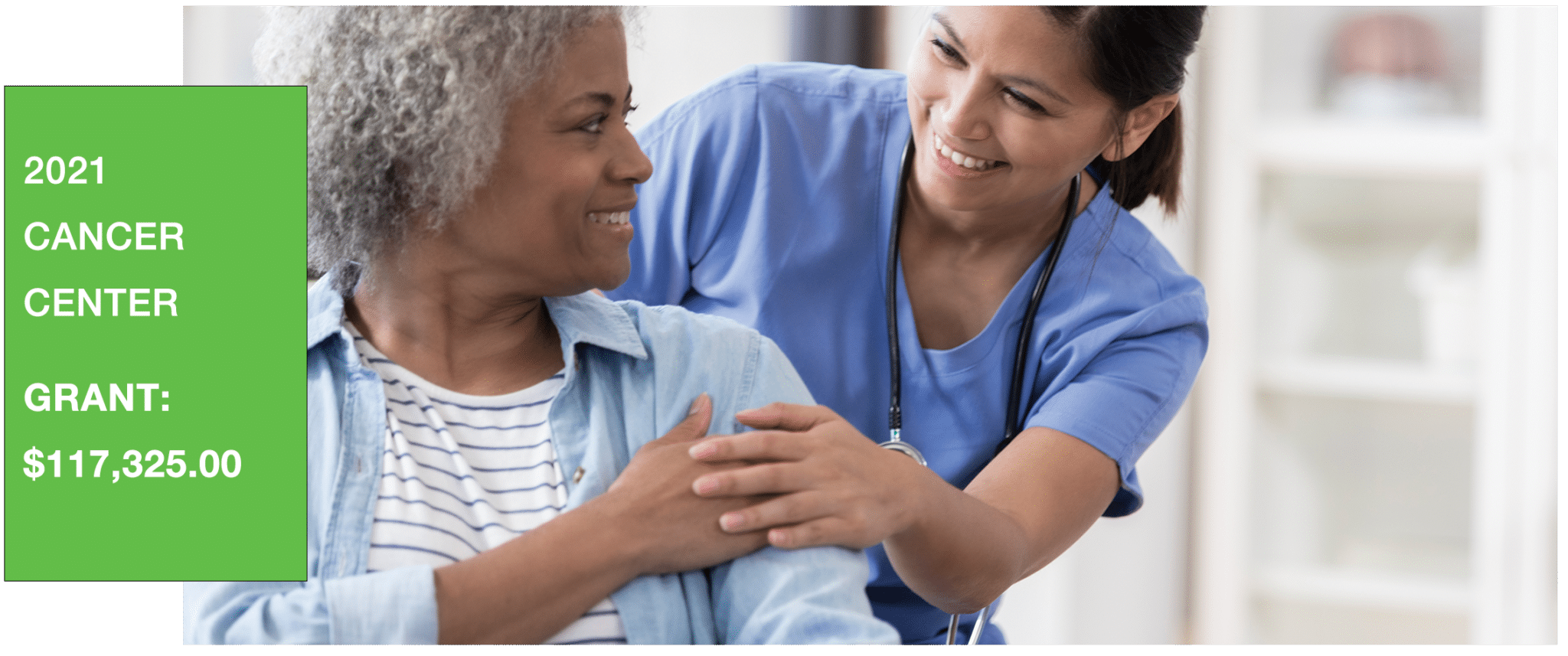 Your loved ones don't have to fight cancer alone. The CAMC Foundation cancer related grants help support oncologists, nurses and a comprehensive team of cancer specialists who are dedicated to helping patients get the care they need.
As West Virginia's leading provider of cancer services, CAMC offers the highest level of care in a supportive environment close to home. Funds awarded support access to medications, chemotherapy, nutritional supplies, and survivorship programs that include psychological services for emotional issues as well as many other services associated with care.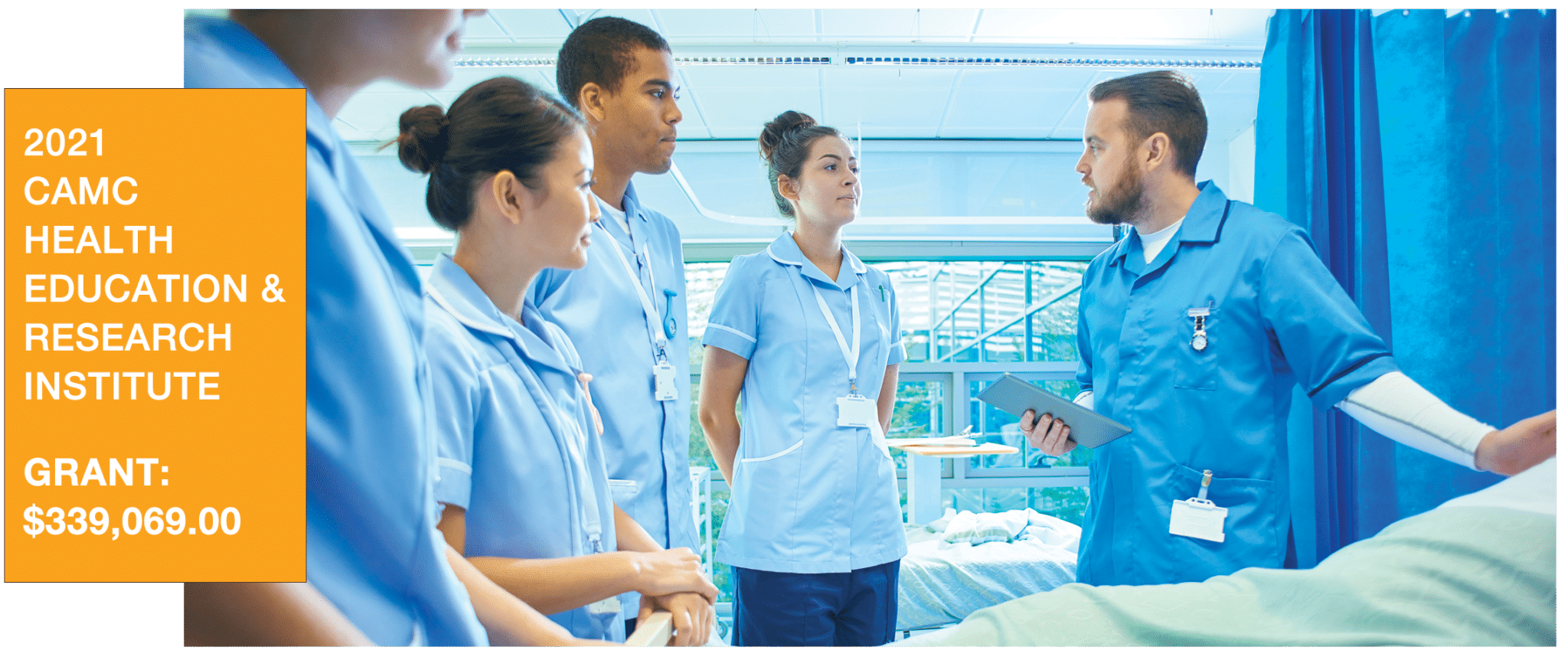 CAMC is committed to improving the well-being of our community through research, education, and health promotion. CAMC has collaborated on research to improve the lives of the people living in our local and surrounding communities for years.  2021 grant awards help provide continuing medical education to residents, students, and allied health professionals training at CAMC, and also provides research support to physicians and medical health professionals throughout West Virginia and the region.
The CAMC Foundation would like to thank the following donors for their generous contributions in 2021.
Chairman's Cabinet
$100,000 – $999,999
Pepsi-Cola Company
The Estate of James H. Walker, MD
Martha Gaines and Russell Wehrle Memorial Foundation
Benefactor
$50,000 – $99,999
American Electric Power Foundation
McDavid Foundation
MEDNAX
Mr. and Mrs. Robert O. Orders, Jr.
Truist West Virginia Foundation
American Cancer Society
Coca-Cola Bottling Company
Descendants of John L. and Maude H. Dickinson
Dr. and Mrs. Art B. Rubin
West Virginia Junior College
Sustainer
$10,000 – $24,999
AT&T
Mr. and Mrs. Edwin W. Barnett
Marty and Kathy Becker
Chad and Sarah Cobb
Electronic Specialty Company
The Greater Kanawha Valley Foundation
Mr. Philip Green
W. Baker Hall Memorial Fund
Lee and Angela Hill
Dr. Edward Howard and Family
Kernutson Foundation
Maier Foundation
Moses Auto Group/Moses Toyota
Mr. and Mrs. Jeffrey L. Oskin
Dave and Billy Ramsey
Dr. and Mrs. Michael Robie
The Neil A. Smithson Foundation
Drs. James and Nancy Tierney
TriForLife Birth Tissue Recovery Group
Dr. and Mrs. Ali F. AbuRahma
ABW Ministries of WV
AssuredPartners of West Virginia
Mrs. Marion Baer
Victor and Ellen Bastron
BBL Carlton
Bellaire at Devonshire
Bowles Rice
Mrs. Janie Bowling
Mr. and Mrs. Jeffrey L. Branham
Brewer & Company of WV
Brooke Brown Barzun and Matthew Barzun
CAMC Federal Credit Union
CAMC General Hospital Auxiliary
CAMC Medical Affairs
CAMC Memorial Hospital Auxiliary
Senator Shelley M. Capito and Mr. Charles L. Capito
Carl Walker Construction
Mr. Joseph T. Carney
Charleston Gastroenterology Associates
CIMCO
City National Bank
Mr. and Mrs. Michael L. Clowser
Ms. Cynthia E. Coleman
CORE
The Courtland Company
CPS Solutions
Dr. and Mrs. Glenn Crotty, Jr.
Steve and Lynn Cvechko
DASCO Home Medical Equipment
Mr. and Mrs. Michael J. Del Giudice
Mrs. Lolita Delgra
Dougherty Company
Eastern Group
Elco Mechanical Contractors
Elder Aide Services Right At Home
Ernst and Young
Jennie and David Ferretti
Fidelity Investments
Kristy and Patrick Fidler
Fifth Third Bank
Mr. and Mrs. B. Peyton Forbes
Dr. and Mrs. Daniel S. Foster
Dr. and Mrs. Dominic J. Gaziano
General Anesthesia Services
Dr. Elie Gharib
Jeff and Kim Goode
Gray, Griffith and Mays
Dr. Carl and Mrs. Abby Grey
Bill and Sharon Hall
Dr. and Mrs. William L. Harris
Highmark Mountain State Blue Cross/ Blue Shield West Virginia
Mr. William H. Hilborn, Jr.
Mr. and Mrs. John R. Hoblitzell
Mr. and Mrs. Randall H. Hodges
HospiceCare
Humana
Ignite a Better World Foundation
Impression Products
Intalere (WV Health Services)
Drs. Michael and Sharon Istfan
Jackson Kelly PLLC
Marion and George Jones
Dr. and Mrs. Steven J. Jubelirer
Kanawha Roxalana
Dr. Fred T. Kerns
Kokosing Construction Company
The Kroger Company Foundation
Lewis Glasser
Cole and Mary Beth Malcolm
Lesley and Andrew McCallister
Mr. John McCuskey
Ms. Lynn K. McGraw and Mr. Rodney Engle
Dr. and Mrs. Thomas P. McIlwain
Dr. Brittain and Judith H. McJunkin
Mr. and Mrs. Douglas P. Meeks
Mrs. Mary E. Meeks
Lillian and Gary Morris
Morrisons' Healthcare Food and Nutrition Services
Mr. Ronald A. Murad and Sons
Natera
Steven and Melinda Perry
Drs. Cyndi and Eric Persily
Pickering Associates
Progressive Electric
Pullin, Fowler, Flanagan, Brown & Poe
Cheryl and Tim Quinlan
Radon Medical Imaging
Mr. Steve Ruby
Dr. Marcus D. Shaffer and Dr. Elizabeth G. Shaffer
Shuman McCuskey Slicer
Mr. Don Smith
General and Mrs. Charles F. Stebbins
Stonerise
Summit Community Bank
Dr. Andy R. Tanner and Mr. Dewayne D. Duncan Target
Dr. Christine Teague
Todd Judy Ford
Tri-State Roofing and Sheet Metal Company
Dr. Richard K. Umstot
UniCare Health Plan of WV
United Bank
Valkyries Motorcycle Club
Vizient
Jason and Rashica Ward
Mr. and Mrs. S. Andrew Weber
West Virginia AFL-CIO
West Virginia American Water Company
West Virginia University Institute of Technology
William R. Wagner Foundation for Melanoma Cancer Research
Michael D. Williams and Brenda R. Williams
Woman's Club of Cross Lanes (GFWC WV)
WV Appalachian Laborers' District Council
WVU School of Medicine - Charleston Campus
Mrs. Mary P. Ziebold
ZMM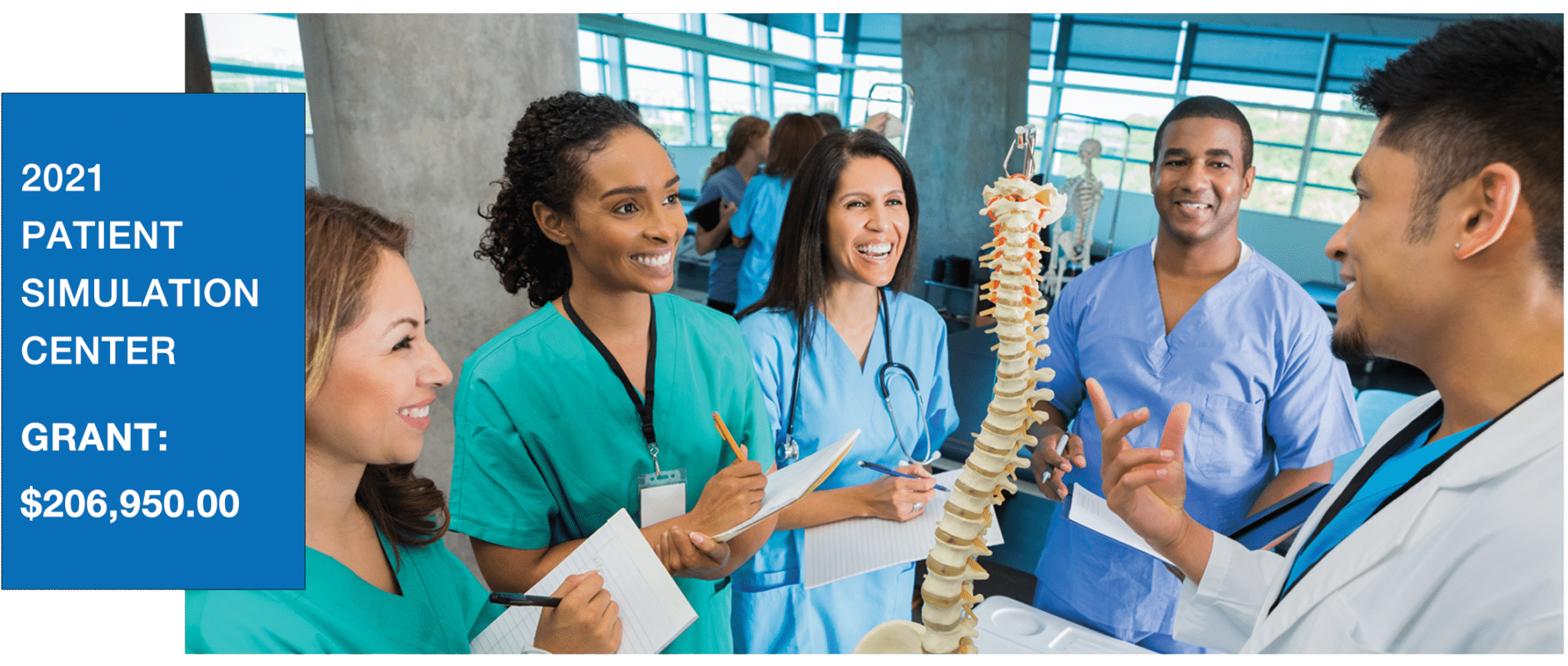 Funding was awarded to provide updates to the simulation facility as well as new, state-of-the-art equipment that provides for a safe training environment for medical students, nurses, and other health care workers.  Grants awarded will provide access to one new Glidescope for School of Anesthesia use, one Advance Pediatric Hal manikin, one Sim Man manikin, three Hal Skills Trainers, and one CAPSA Cart for School of Anesthesia use.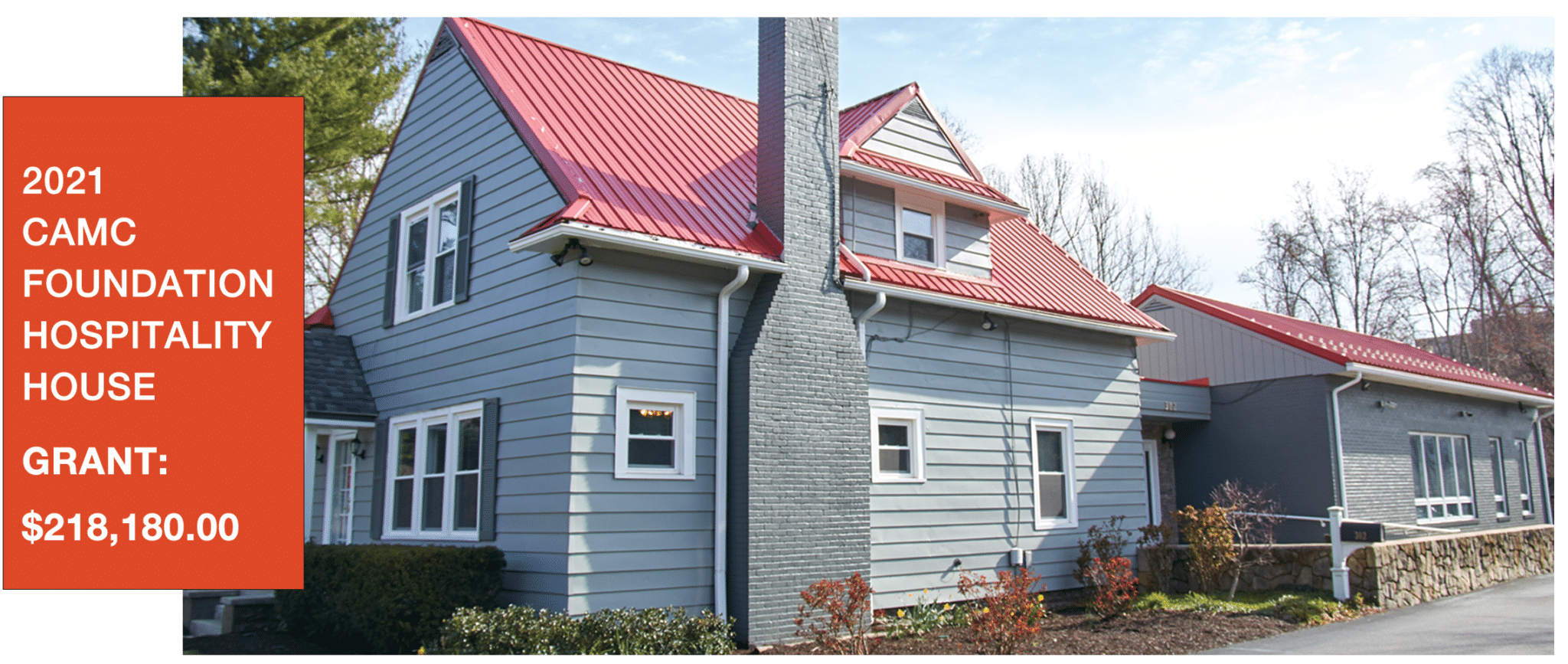 The CAMC Foundation Hospitality House provides free or significantly reduced cost lodging to adult patient families while receiving medical care away from their home communities.  Unlike a hotel, the CAMC Foundation Hospitality House provides opportunities for those going through similar stressful situations to come together as a group where they can support one another.
In 2021, grants were awarded to help provide for the physical comfort and emotional needs of families during a medical crisis so they could participate fully with the medical team as partners in care.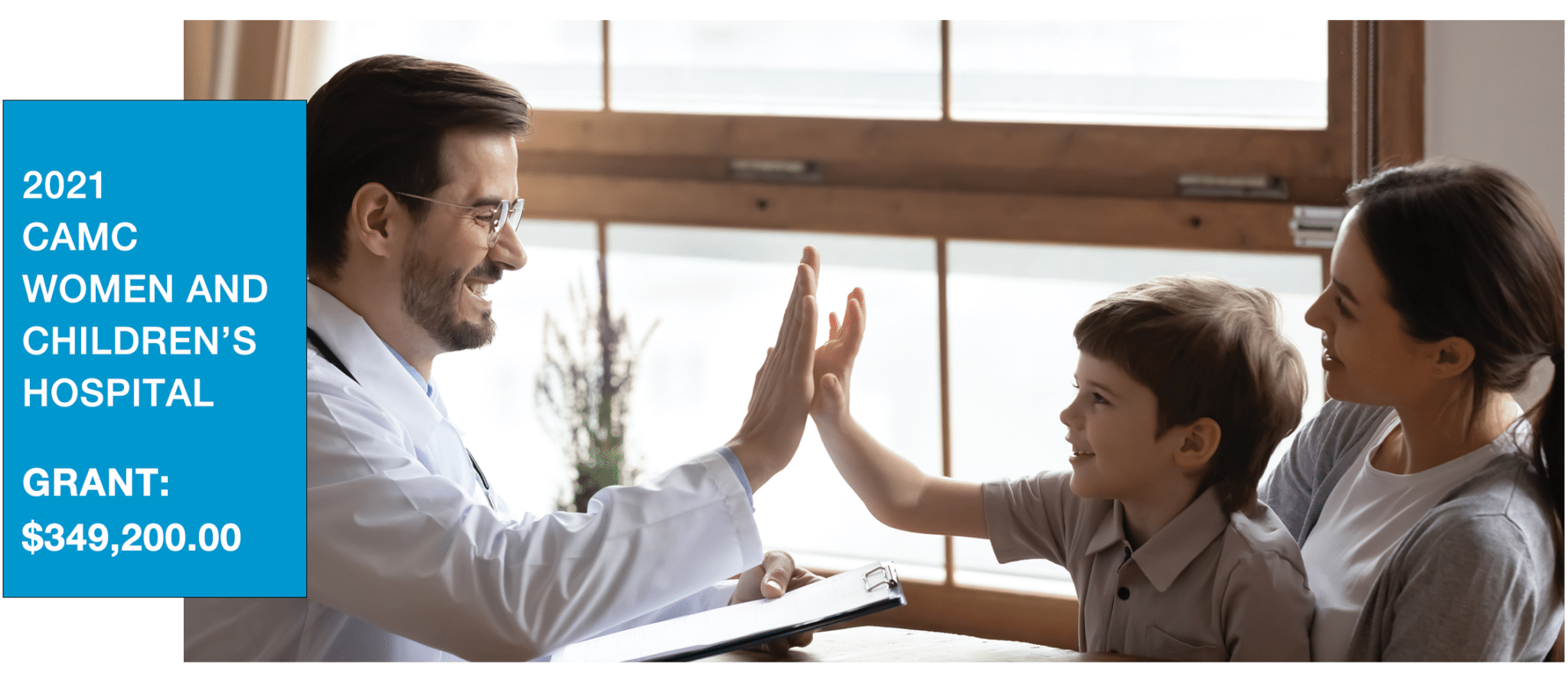 The CAMC Foundation honors brave little children facing big medical problems and celebrates the babies, children and families cared for at CAMC Women and Children's Hospital. Grants awarded play a significant role in helping deliver healthcare to the children and families cared for at CAMC Women and Children's.  Most importantly, these funds sustain a positive and healing presence in West Virginia and help provide the best possible start in life for these tiny patients.
Funding for CAMC Women and Children's Hospital was directed to help support multiple medical teams and patients, including but not limited to the region's largest and busiest Level IV (highest level) neonatal intensive care unit (NICU), the Level I (highest level) pediatric intensive care unit (PICU), and the CAMC Children's Cancer Center. Other recipients highlighted are the CAMC Family Resource Center, where community services in counseling, family-based health education, and Journey to Parenthood Classes are taught to welcome a new baby and help navigate the first few years of a mother and baby's life together. In addition, funding from the CAMC Foundation helps the CAMC Children's Advocacy Center; where children and families are treated with professional, compassionate care to reduce trauma often experienced by children who are victims of abuse.
CAMC WOMEN AND
CHILDREN'S HOSPITAL
Childbirth Education Program
$75,000.00
Children's Advocacy Center
$75,000.00
Family Resources
Center Support
$55,000.00
Bereavement Services
$11,000.00
Development and Calming
Equipment for NICU
$10,000.00
Drug Addicted Mother
Baby Program (DAMB)
$46,600.00
Gigi's Place
$9,300.00
Teddy Bear Fair
$6,000.00
NICU Grad Party
$5,000.00
CAMC Children's Cancer Center
-End of Therapy Party
$3,000.00
CAMC Children's Cancer Center
-Patient Support
$22,700.00
NICU Family Centered
Development Care
$6,000.00
WCH Parent Lounge
$5,000.00
Specialty Clinic Support
$4,600.00
CAMC FOUNDATION
HOSPITALITY HOUSE
CAMC Foundation
Hospitality House
$281,180.80
CAMC Cancer Center
Survivorship Grant
$30,825.00
CAMC Cancer Center
-Healing Garden
$21,000.00
CAMC Cancer Center
-2nd Floor Improvements
$17,000.00
Colon Cancer Patient Support
$14,000.00
CAMC Cancer Center
-Waiting Area Improvements
$12,500.00
Cancer Center - Patient Care
-Bill Young Fund
$10,000.00
Employee Emergency Fund
$75,000.00
CAMC Employee
Heart of the Holidays
$5,000.00
EDUCATION, TRAINING
AND RESEARCH AT CAMC
Patient Simulation Center
$206,950.00
Sepsis Research
$105,069.00
Research Projects and
Research Related Travel
$75,000.00
Geriatric Education
and Training Initiative
$55,000.00
Geriatric Research
$47,000.00
Guest Lectures
$40,000.00
Mini Medical Schools
$10,000.00
Tobacco Free for Baby and Me
$15,000.00
Mou Lectureship Research Day
$7,000.00
Cancer Center
Clinical Trials
$12,000.00|
Educational Assistance
$3,500,000.00
ATV Helmet Project
-Trauma Services
$12,000.00
Pulmonary Rehabilitation in Rural WV
$180,000.00
Department of Medicine
Noon Didactic Conference
$65,000.00
Faculty Support
- Pediatrics
$20,000.00
Department of Surgery
Chair Support
$50,000.00
Acute Therapy
- Mobility Chairs
$54,928.30
Disordered Eating Center
-Recovery
$9,600.00
Pediatric Body
Composition Analyzer
$12,000.00
WV Chapter American
College of Surgeons
$10,000.00
Rural Health Scholars
$60,000.00
Congestive Heart Failure
-Patient Scales
$5,000.00
A NOTE TO OUR EVENT SUPPORTERS
We would like to express our thanks to all the sponsors and participants who helped ensure the success of the special events held in 2021. Thanks to you and your dedication to the those we care for, we were able to continue providing funding for the many programs and services that help make this community stronger and more resilient.