Dr. Dan Foster and son Brad Foster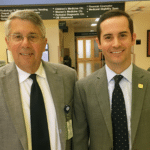 The 2018 CAMC Foundation Golf Classic was held on August 20 at Berry Hills Country Club and Edgewood Country Club. Each year, this event raises much needed funds for CAMC Women and Children's Hospital, specifically the Neonatal Intensive Care Unit (NICU) to help little babies with big medical problems. This was the 26th annual Golf Classic.
This year's honorary Golf Classic co-chairs were Dr. Dan Foster and son Brad Foster. As co-chairs, Dan and Brad were tasked with leading a dedicated committee of their peers to secure sponsorships, raffle prizes, assist with stewardship of sponsors, golf logistics and much more. Here is what Dan and Brad had to say about their experience.
"For Brad and me, it was pure joy to have the privilege of serving as co-chairs of the 2018 CAMC Foundation Golf Classic. With the collaboration of the Foundation staff, the Golf Classic Advisory Committee and the generosity of sponsors and raffle donors, the tournament was able to raise more than $165,000 for CAMC Women and Children's Hospital, while providing an exciting and enjoyable competition on an absolutely beautiful day!"