Continue the Mission by Chris Stadelman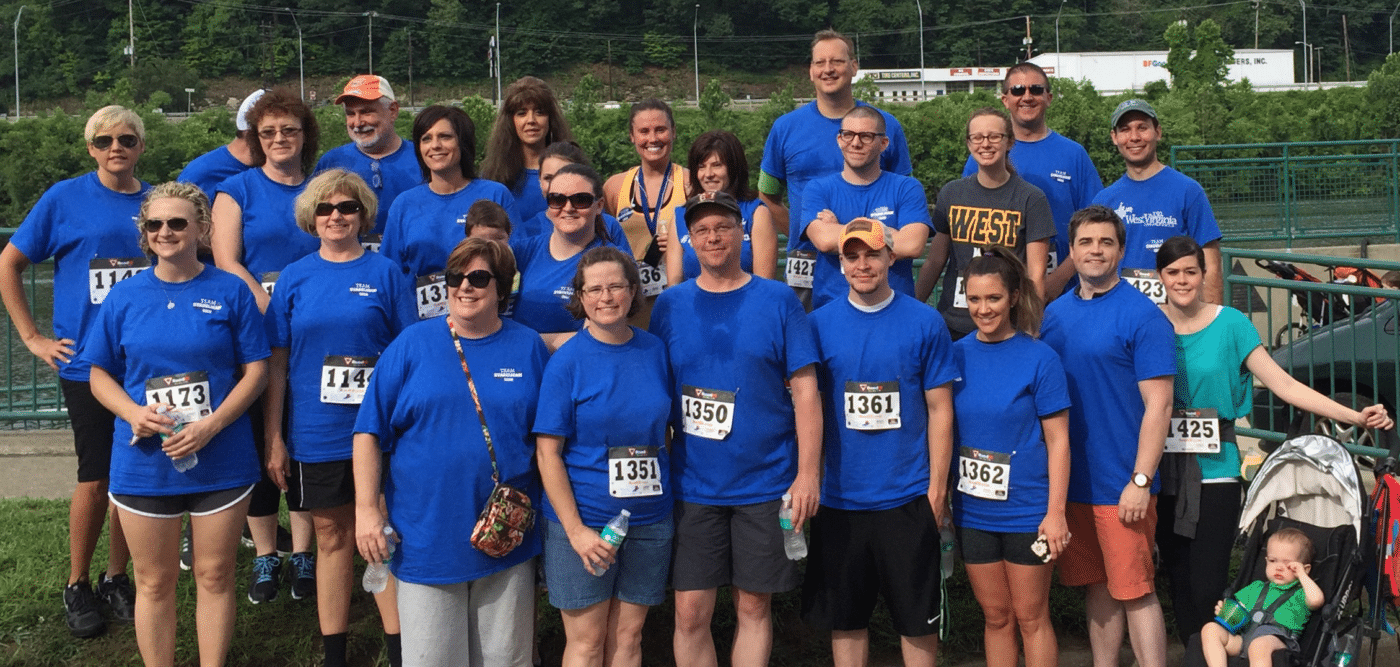 When my dear friend Marina Hendricks started Run for Your Life in 2004 in memory of her fiancé – and my longtime friend and co-worker, at the Charleston Daily Mail, Jody Jividen – I had no idea the event would become even more personal to me.
CAMC Foundation Run for Your Life, scheduled for 8 a.m. Saturday, June 16, this year, increases awareness of colorectal cancer and raises money to help pay for screenings. Jody died of colon cancer, and at some point, I will, too.
I had survived Hodgkin's disease in 1991, so I was something of the Charleston Daily Mail "chemo expert" when Jody was first diagnosed. I went with him to his first treatment and recognized the setting all too well.
I was diagnosed with colorectal cancer in 2014, 12 years after Jody died, and started a similar chemotherapy regimen. When the new CAMC Cancer Center opened and I moved my treatment there, I realized I was likely one of the few people who had received chemotherapy in each of the three locations CAMC had used over the past three decades. In fact, Karen Cross, one of the incredibly talented and caring nurses in the infusion center, administered treatments to me in all three locations.
I mentioned this to a friend at CAMC and told him if there was anything I could do to help support the cancer center or raise awareness about screenings, I'd be happy to do that. I soon became the honorary chairman of Run for Your Life, telling my story in local media and encouraging people to help fund screenings through the CAMC Foundation for those who cannot afford them.
I received outstanding treatment at CAMC from Dr. Jubelirer and Dr. Zhang for nearly three years before we exhausted all conventional options. They encouraged my wife, Kelly, and me to consider a clinical trial, and we found one through Memorial Sloan Kettering Cancer Center in New York City. Dr. Varghese, who had monitored my treatment since my initial diagnosis, praised the treatment CAMC provided and noted that I had been able to receive the same level of care in Charleston that is offered at major research centers across the country.
In an interview with the Charleston Daily Mail the year I was chairman of Run for Your Life, I brazenly stated that this disease wasn't going to run me, I was going to run this disease. And for the most part that has been true.
I kept my job, as communications director and later chief of staff, in Gov. Earl Ray Tomblin's office thanks to the support I received from him and many, many wonderful co-workers. Kelly and I have checked off several "bucket list" items, including a trip to the British Open and six weeks at Spring Training in Florida. We continue to cherish our time together more than ever.
When the time comes, it's my goal to also die on my own terms. I want to maintain control of what I can, even as the number of those things shrinks.
I also hope that by spreading the word about screenings and early detection of colorectal cancer – a situation that makes it easily treatable – I can keep others from going down a path similar to mine and to Jody's. I'm glad the CAMC Foundation will continue that mission well into the future.
By: Chris Stadelman
2015 Honorary Chairman
CAMC Foundation Run for Your Life